If you ever run across in automation,You've probably heard of AUTOMGEN software. AUTOMGEN is that the reference for universal automation software. Created 25 years ago, the software has evolved to take advantage of the latest available technologies.
AUTOMGEN permits the development of programs using standardized languages (IEC 1131-3, SysML), computer simulation, code generation, and download for PLCs and other targets (Arduino, PIC, etc.). AUTOMGEN also permits the creation of local or over Internet SCADA applications and 3D simulations.AUTOMGEN is powerfully supported a concept of a project
Here, I will tell you about AUTOMGEN.
AUTOMGEN is a software for automation, 2D/3D process simulation, and pneumatic, hydraulic and electrical simulation that runs under Windows.You can use this software for teaching for learning regarding automation as well as in industry for application development.The outstanding easy development atmosphere allows the operators to focus on to most important aspect of their work. AUTOMGEN allows you to develop programs in standardized languages, simulate them on a computer, generate code, and download it to PLCs and other devices (Arduino, PIC, etc.).AUTOMGEN can also construct SCADA program and 3D simulations locally or over the Internet.

Various tools are available for designing programs.
Program generation for PLCs, particular targets and PCs (using the PC as automaton with input and output card guidance).

You can Supervise the creation of an application.

You can also Simulate operational parts in 3D, as well as the creation of demonstration animation.

Importing 3D designs (3D studio, AUTOCAD, SOLIDWORKS, SOLIDCONCEPTER, etc.).

It offers a completely customizable environment.

We also generate self-compacting executives for deployment of applications.

There is a Choice of "Beginner / Expert" mode.
Sectors where we use AUTOMGEN Software
Compression systems design.

Consulting.

Control systems design/Analysis.

Data acquisition.

Data analysis/Modeling.

Education and Universities.

Educational instruction.

Hydraulics/Pneumatic systems.

Process control/monitoring.

Research and Development.

Simulation.

Test equipment/Instrumentation.
System specifications that you need for AUTOMGEN
PC compatible computer, with:- WINDOWS 98 SE or WINDOWS ME or WINDOWS 2000 orWINDOWS XP or WINDOWS 2003 or WINDOWS VISTA operating system
Memory: 256 MB (depending on the operating system: the operating system itself may require more memory) and a graphics board with a resolution of at least 1024 x 768 pixels and a color depth of at least 65536 is required.
A license establishes AUTOMGEN user rights.. The license determines the number of all or none inputs/outputs that maybe used, the number of post-processors that can be used, and the number of users that can be used (only for network licenses).

When you install AUTOMGEN, you can use it for free for a period of 40days.You must register your license within 40 days.To register your license, send IRAI:- the serial number printed on the label glued to the software box, other reference of your delivery note or order form,- the user code provided with the software indicating the PC where you have installed the product.You will then receive an enable code (also called validation code).The « License » option in the AUTOMGEN « File » menu , (Click on » Registering the license ») to check the status of your license and get a user code.
Moving a license from one computer to another
This is a more difficult technique. You must follow the steps outlined below in order to achieve satisfactory results.
1-Install AUTOMGEN on the target PC.
2- On the target PC, create a ".a8u" user code file and transfer it to the source PC (for example on a floppy disk).
3- on the source PC, select the « Move the license to another place »option,Dialogue box for moving a license.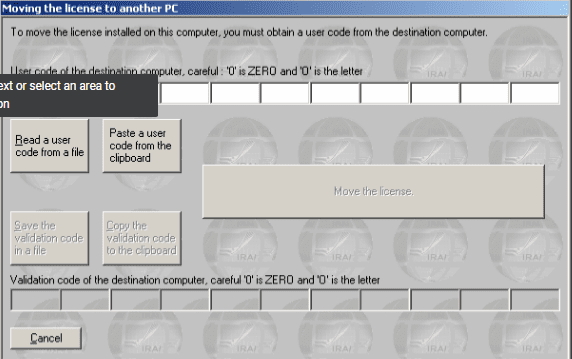 4- on the source PC, click on « Read a user code from a file » and select the « .a8u » file that came from the target PC,
5- on the source PC click<<move the license>>.
6- On the source PC, click on « Save the validation code in a file »,recopy the generated « .a8v » file to the target PC.
7- On the target PC, click on « Read a validation code from a file »and select the «.a8v » file that came from the source PC.AUTOMGEN8
It gives you a chance to face real time challenge.If you are working in field of automation.Knowledge of AUTOMGEN defiantly help. If you want to gain experience with working with automation simulation software like AUTOMGEN software. If you're interested in learning more about AUTOMGEN, Abhyaz offers a skill development program as well as an internship program where you can obtain more hands-on experience.

FAQs
Q1. How to install AUTOMGEN?
Ans. Place the AUTOMGEN CD-ROM in your CD-ROM drive if you're installing it from scratch. The installation process starts automatically. If this does not work, run the "Setup.exe" executable from the CD-ROM root directory.
Q2. Where we use AUTOMGEN?
Ans. AUTOMGEN software is a tool for the automation, supervision and simulation of 2D and 3D components running on a Windows PC.
Q3. What is the importance of automation?
Ans. Higher production rates and productivity, more efficient resource use, greater product quality, improved safety, shorter labor work weeks, and shorter factory lead times are all benefits typically attributed to automation..
Q4. Does the Abhyaz platform provide training for digital manufacturing tools?
Ans. Yes, Abhyaz provides training as well as internships to obtain more experience.